Swivel castors and fix castors

For transporting devices and vehicles in the following areas:
Transporting devices  and vehicles
In-house logistics
Medical technology
Warehouse management
Catering industry
And many more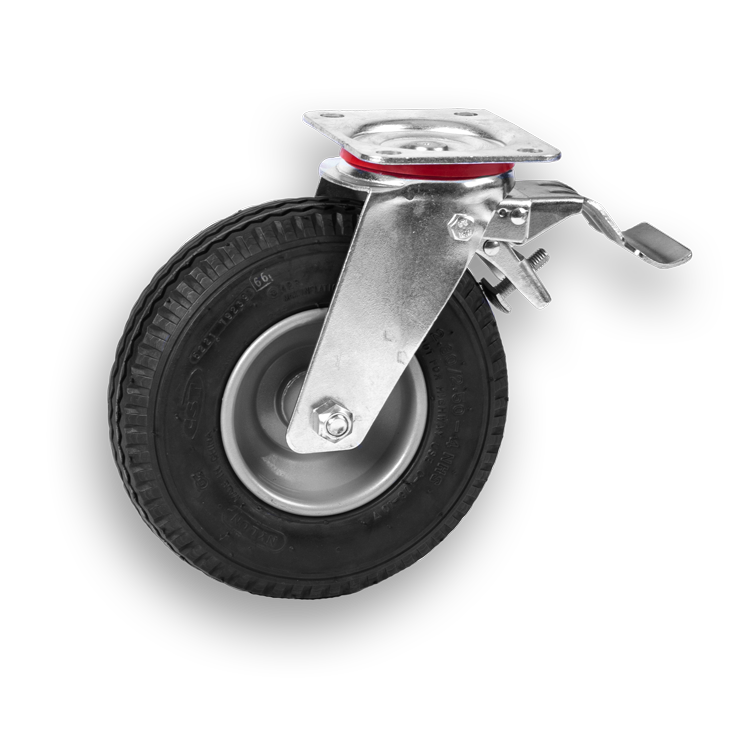 Castors for transporting loads
Castors are indispensable elements in the field of lifting and transport equipment. The application specifies the load capacity to be covered by the castors. We are happy to support you in choosing the right product, as we know the importance of putting a high-quality product to this significant but almost invisible position. Our housings are electro galvanized and Chrome VI-free. We are offering you swivel and fix castors with or without lock in standard sizes for your logistics requirements. Thanks to the variety of our tyres, the castors can be applied flexibly everywhere where you wish to transport small and medium loads with pleasant driving comfort.
Outer wheel diameter: 200 x 50mm – 260x85mm
With plastic or sheet steel rim
Equipped with: pneumatic tyres, solid rubber tyres, polyurethane tyres, foam-filled tires
Product selection
Depending on the area of application
Swivel castor with or without lock
Fixed castors
Load capacities
Housing selection
Dimensions of the base plate
Hole distances / hole diameters of the base plate
Mounting rim width
Installation height
Selection of wheels
Type of rim
Type of bearing
Colour of rim / colour of tyre
Type of tyre
Do you have any specific requirements for your business?
Let's talk about it!
Thanks to our specialists and our specialized machine equipment, we are offering you the possibility to realize your individual ideas. We will gladly manufacture your products according to your specifications. Simply contact us by phone or by e-mail.
We will be delighted to make your ideas a reality!
We will be glad to realize your ideas!
Contact us now for your B2B solution!
We will be happy to consult you and supply you with the suitable product.
We supply you with the right solution for your sector
We provide tailored solutions for your specific sector requirements. Based on our long-term experience we are in a position to quickly understand your requirements and to develop innovative solutions.