Tyres and tubes
Small and industrial tyres on our sheet steel or plastic rims form the perfect symbiosis
for a long service life:
Rehabilitation and mobility
Mopeds, scooters and golf carts
Garden and stable equipment
Municipal and agricultural equipment and attachments
Industrial vehicles
Road sweepers
Trailers and ATVs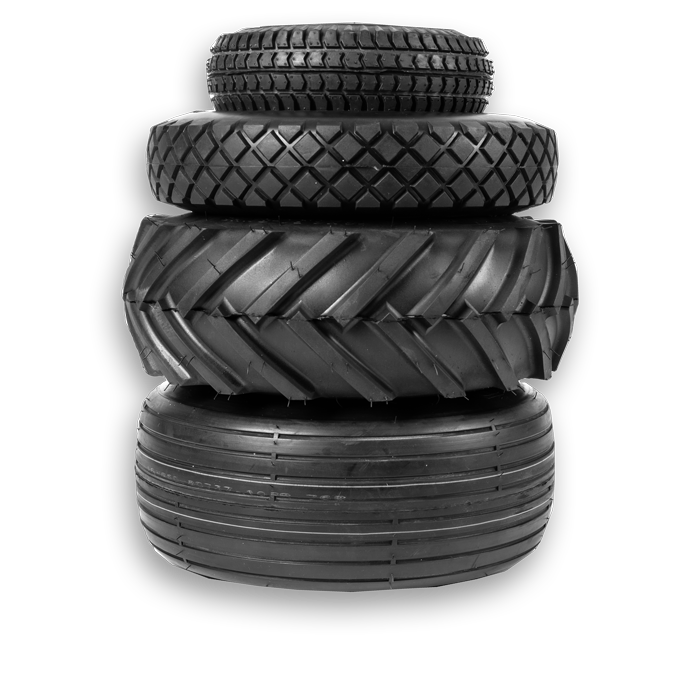 Butyl tubes and pneumatic tyres (TT and TL)
As a B2B specialist in small and industrial wheels, we supply you with the complete wheel. Our wide range covers all common sizes and colours for your different application areas. Our wheels are used in the medical care (mopeds for senior citizens, e-scooters), in the leisure sector (golf carts) as well as in the agricultural and municipal technology, e.g. installed in ride-on mowers, tedders, snow blowers with relevant attachments.
Possible tube sizes: 7x 1 ¾ (170x45mm) – 5.00x10 (522x136mm)
Tyre types
Pneumatic tyres (TT & TL)
Solid rubber tyres and crumb rubber in shore hardnesses from 70 – 95°
Polyurethane tyres
EVA tyres
Soft rubber / Superelastic
Profiles
Line profile / Zigzag-line profile
Bloc profile / diamant bloc profile / V-bloc profile
Traction tyres / turf profile
Line mix profile
Moped profile
Mixed profile
Tubes and valves
Tube with valve DIN 7777 / 7768
Tube with valve TR 13 / 87
TR 412 TL-valve
Ventil Schrader
Valve Dunlop
Do you have any specific requirements for your business?
Let's talk about it!
Thanks to our specialists and our specialized machine equipment, we are offering you the possibility to realize your individual ideas. We will gladly manufacture your products according to your specifications. Simply contact us by phone or by e-mail.
We will be delighted to make your ideas a reality!
We will be happy to consult you and supply you with the suitable product.
We supply you with the right solution for your application
We provide tailored solutions for your specific sector requirements. Based on our long-term experience we are in a position to quickly understand your requirements and to develop innovative solutions.